Photo by Jen Theodore on Unsplash
The time is the 1860s in the United States. The west is still wild and there are murmurings of a war between the North and the South. There are still Indian troubles along the trail.
This is the historical period I enjoy writing about. A time when men were men and women had some grit. I write about true history using fictional characters and relationships, and of course, at least one romance along the way.
I am in the final edits of my first novel, which I hope to publish no later than November 2021, so keep your eyes open if you love a good, clean historical romance. You won't want to miss it!
Now for a brief history about me and my writing. I fell in love with books as soon as I learned to read. And, yes, I was one of those kids who read everything from cereal boxes to billboards.
When I was in the fifth grade, my teacher read a story from the old west about people traveling by wagon train. She gave us an assignment to pretend we were a child on the wagon train, and we had to write a diary of what happened day to day for several days to a week. That was the first writing assignment that I remember and I really enjoyed it. Then in seventh grade, I had an assignment to write on different topics about myself and we put a booklet of these things together. They were things like: your greatest fear and one person you admire. My teacher was so impressed with my booklet, she showed it to my mom at a parent/teacher conference and told my mom that I had writing talent and my mom should encourage it.
That was all a long time ago, and though I've continued to write over the years, I didn't take it seriously as my husband and I raised a family. But twelve years ago, I decided it was time to get serious about my writing, so I joined a local writers group and my involvement in the writing world began. It's taken a lot of time, but I look forward to sharing my writing with the world soon.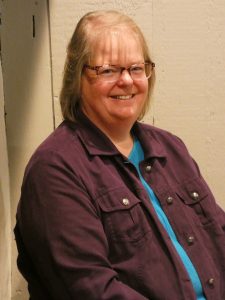 Kelly Barr lives in Lancaster County, Pennsylvania with her family and black Labrador Retriever. She writes historical romance. She has also been a blogger for fifteen years, and every Friday, you can find her Flash Fiction stories posted for your reading pleasure. She loves connecting with other writers and hanging out in coffee shops, a chai latte in her hand.
website: https://kellyfbarr.com/